Baby factory shops in South Africa will help you buy clothes and products for both newborn and older babies. Because there's no need to pay the prices of items at regular stores.  If you are expecting a baby, or if you need to buy a gift for someone who has recently had one. You will be happy to find baby factory shops where accessories and items are much more affordable.
Find baby factory shops in:
Johannesburg (Gauteng)
Pretoria (Gauteng)
Port Elizabeth (Eastern Cape)
Bloemfontein (Free State)
Durban (Kwazulu Natal)
Cape Town (Western Cape)
Most items for children, toddlers and babies, whether they are essential items or toys and clothes, are quite expensive from regular stores.
If you are buying your own accessories for your own child you will find that the list of products you need to buy can be extensive. Making the cost high.
Why Shop at Baby Factory Shops?
Baby factory shops are retailers where you can find items at discounted prices. This is usually because they stock reject items from other stores. Or products that have been cleared out at the end of a season from other stores.
Often well-known brands will have their own branded factory store. Where customers can find last seasons items at very low prices. Or items directly from the factory that have some sort of fault in them.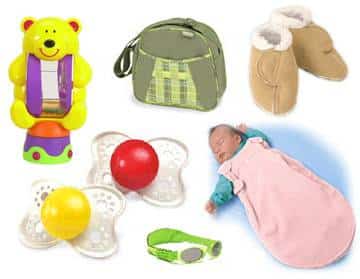 Common faults with clothing include the wrong label being sewn onto the item of clothing, the wrong size being sewn onto a garment. The stitching done on the wrong side or the wrong way, or a tiny hole or tear somewhere.
With baby items there may be a myriad of reasons that products and accessories have been sent to factory stores. Therefore it is very possible to find good quality items that may only have one or two minor flaws. That do not really affect the way that the item functions.
For example, a bottle with the image or labelling painted on skew might end up in a factory store. Most people would prefer to pay up to 50% less for a bottle with a skew drawing. Instead of the full price for a bottle with a perfect image on it.
If you are expecting a baby, the items that you may need to buy include:
Pram or stroller
Car seat
High chair
Clothing
Nappies
Bottles
Dummies
Bottle cleaning items
Crib
Baby bath
Creams
Powders
Soaps
Milk formula
Toys
These items can be expensive from normal stores. So you can save a lot of money if you invest in as many of these items as possible from babies discount stores.
What Items can you find at Baby Factory Stores?
You will usually find bottles, bowls, spoons, toys, books, DVDs, music, nappies, blankets, baby grows and other baby clothing. As well as high chairs, car seats, prams, strollers, cribs, walkers, baby harnesses and a myriad of other baby accessories.
These products are all things that you will be able to use repeatedly for some time. Often factory stores will stock nappies, creams and powders which are perishable, but not food items.
However there are some factory stores who do stock baby cereal, formula and other food. So you may be lucky enough to find one of these stores near you.
Where to find a store near you
There are several throughout the country. Baby Factory is one of these stores and is located in Cape Town.
The best way to locate the nearest baby factory store to you would be to use one of the online factory store locators.
Factory Shopper is one of these useful tools and you can use it to find a range of different factory stores selling different items.
Products selling at baby factory shops can be just as good as baby items for sale at Woolworths, Edgars, Baby City or Baby Depot.
TIP: What to remember when buying items from factory stores
When shopping at factory stores for any items, it is important to keep in mind that it is no good paying less for an item if it is not good quality and if it will not last you.
Because paying a low price for a low quality item over and over again when it breaks will prove as expensive as paying a higher price for a good quality item just once.
If quality is high on your list then we recommend buying your baby products at stores such as Woolworths and Edgars in South Africa. Or online baby stores such as Kids Emporium.
In Summary
To summarize we have learnt that there are different baby factory shops in South Africa where you can buy babies clothes and products.
So visit these stores or if you don't have a branch near you then have a look at the baby shops online. These often have specials on items you can buy for newborns and toddlers.