You can buy reject tiles for sale at shops in South Africa in a range of different types and styles. This offers you the chance to shop for lower price tiles than in the usual stores. So will help you save money on any home renovations and building projects that you need materials for.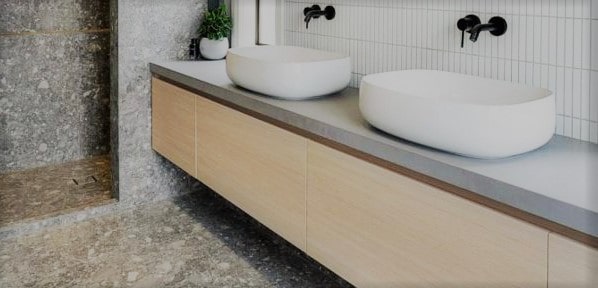 Where to buy reject tiles in South Africa:
Johannesburg Factory Shops Gauteng
Durban Factory Shops
Cape Town Warehouse Stores
Reject Tiles Online
At most of the tile suppliers in the country you can buy rejects in bulk quantities. So if you are a building company working on different projects it is worth your while purchasing your tiles from a factory warehouse store.
Reject Tiles For Sale at Johannesburg and Gauteng Factory Shops
Factory shops in Johannesburg are a worthwhile visit. Because they often offer rejected tiles for sale at discount prices.
One such place in the Gauteng area is the Tiles 4 All Warehouse stores that offer regular specials and promotions on tiles.
Tiles 4 All Warehouse stores are in the following areas:
Booysens
Bramley
Limpopo
Pretoria West
Tembisa
Polokwane
Zimbabwe
In addition a bonus to buying your tiles from these warehouse stores is you can make them an offer. So if you have found the same products at other stores you can negotiate with Tiles 4 All on the price.
This is great if you are a builder that needs to find the cheapest price possible for bulk tiles.
Their lower prices are hard to beat when it comes to getting specials on tiles in the Gauteng region.
Visit the Tiles 4 All website here to see the full range of products available: https://www.tiles4all.co.za/
You may also like this: Factory Shops in the Gauteng Region
Durban Factory Shops for Rejected Tiles
In the Durban area of South Africa there's not such a variety of factory shops that sell rejected tiles.
However one store that sells tiles for low prices in Durban is Malls Tiles.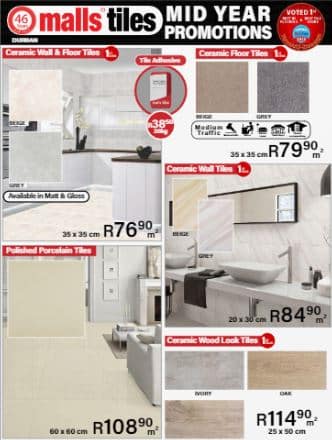 They have a range of products available that come in different materials to suit your needs and budget.
Products such as:
Ceramic Tiles
Porcelain Tiles
Terracotta
Natural Stone
Cladding Tiles
Roof Tiles
They regular have specials on tiles in the Durban branch which you can check in the catalogue brochure. This can be found on their website at: https://www.mallstiles.com/
In addition they have a special cash back card offer. Which means you can get rewards and money back over time.
So if you are a builder looking for cheap tiles in the Durban area you can save a lot of money here. Because the more products you buy in bulk, the bigger the discounts you will receive at Malls Tiles in future.
Where to Buy Reject Tiles at Cape Town Warehouse Stores
You can purchase reject tiles for sale at the Clearance Warehouse store in Paarden Eiland, Cape Town. If you buy in bulk then you can speak to them about arranging delivery.
The Cape Town Clearance Warehouse has a decent selection of wall and floor tiles with specials available on sale.
You can visit the website for further information: https://clearancewarehouse.co.za/
Another popular place to buy affordable tiles in Cape Town is from the Tile Factory Shop. You can buy your peoducts in bulk here as well to get a decent amount of discount on your purchase.
At the time of writing we couldn't find a website for the Tile Factory Shop. However they are located at 16 Coleman Street, Elsies Rivier, Cape Town and their Telephone number is: 021 591 1981.
This may also interest you: Cape Town Discount Shops and Warehouse Stores
Buy Reject Tiles Online in South Africa
If you want to purchase your tiles on line in South Africa you can use a website such as Italtile: https://www.italtile.co.za/
Italtile offer tiles for:
Floors
Walls
Bathroom
Kithen
Outdoor
You can find some of the products on their website selling at cheaper prices than normal. Because they have a page offering promotions and specials on tiles and products.
In addition you can shop online for secondhand and damaged reject tiles through sites such as Gumtree and OLX. This can be a good option.
Because builders and contracters often buy tiles in bulk. So if there's a job lot left over they sometimes sell these secondhand tiles online.
Other shops to get specials on new tiles in South Africa:
CTM
TileAfrica
Builders Warehouse
Cashbuild
To Summarize
In summary we have learnt that you can buy reject tiles for sale at factory shops and warehouse stores in South Africa.
Therefore shop around online. Because you can compare prices on tiles before making a final decision on where to buy your products.
So whether you're a builder looking for low prices on bulk tiles. Or you are renovating your kitchen, bathroom or a room in your home. Check out the shops and online websites we mention above.
And you'll be able to buy your tiles at a lower price than you would pay for the products normally.