Wedding dresses in South Africa and patterns have come a long way since the long skirts and puffy shoulders of the 1980s. In modern times the wedding dress has been a symbol of both purity and elegance. As embodied by the incredible gown worn by Lady Di in the United Kingdom.
The bride is the centre of the show at most weddings. Which is why it is becoming more and more common for women to get a South African designer. To assist them both with the gowns of the bridesmaid and their own dress.
Sewing is the passion of few, and is actually quite difficult to do well.
You may also like: Playtex Underwear Factory Shop
If it's your special day coming up, leave it to the experts and allow them to craft you an elegant gown.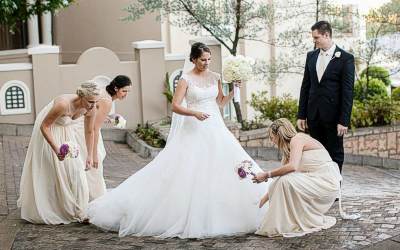 The materials that are suggested in wedding dress patterns have also changed and developed over history. In the past nearly every bride went for a white dress with lots of detail and an elaborate veil.
In current times many weddings are colourful affairs. With patterned materials and sashes being used to express the personality of both groom and his fiancé. And even a bridesmaid or groomsman.
Using different textures, or sewing on beautiful broaches or beads can add glamour and flair to an ordinary dress. And can bring colour to your photographs and memories.
If you are soon to be a bride and have no sewing skills whatsoever, don't worry. Many a designer will gladly assist you with designing, crafting and fitting the dresses of you and your bridesmaid. To ensure that they look stylish and elegant.
What to Consider about the perfect dress
Comfort should also be high on your list of requirements. Because it will be something that you wear all day, and possibly late into the night as well.
So don't be scared to ask for help, tips and advice on wedding dress patterns.
Plus Size Wedding Dresses in South Africa
Plus size wedding dresses for curvaceous brides with a fuller figure can be tailored to flatter and compliment the figure. Helping to give the bride confidence and a feeling of beauty while gliding down the aisle.
Finding the perfect gown can often seem like a daunting task. Even a little nerve racking for brides with a fuller figure and who want a plus size fit.
This though, is nothing but a false sense of insecurity for most. As no matter what shape or size a lady is, gowns are readily available off-the-shelf. Or can be tailor made to fit a figure beautifully.
Our recommendation to choosing plus size wedding dresses for brides in South Africa is to find a style that you really like from website or magazine pictures. Then have something similar tailor made for you.
Having a dress tailor made means that not only is it going to fit perfectly with your fuller figure curves. But you can choose the types of material you want used for the gown.
Have a Wedding Dress made for Comfort, Style and Movement
Materials can be chosen from samples and the tailor will offer advice. Who will have vast experience in designing gowns. And which kinds of materials work best with certain styles.
Of course, looking good on your big day is one thing. But you are also going to want to feel comfortable throughout the ceremony and reception.
Posing for pictures, dancing at the reception and having to move about freely are things to keep in mind when looking at different designs. Or discussing designs for a gown with a tailor.
Keep in mind that this is your special day. Plan well ahead and have fun shopping or chatting to professional tailors about designing you a plus size wedding dress. To help make this once-in-a-lifetime experience a memorable one.
Bridesmaid Dresses and Sewing Patterns
Affordable bridesmaid dresses and sewing patterns come in a variety of styles and designs. That can make even the most competent seamstress feel overwhelmed.
If it is your wedding and you don't feel up to the challenge, you can simply work with a stylist and some designers to ensure that the dresses you get are perfect.
Everyone wants their wedding to be unique. But this doesn't have to mean gowns in scary patterns or gowns that look like meringues.
Custom Made Wedding Dresses in South Africa
The most important thing with a custom made dress is to keep it classic looking and simple. The beauty of your bridesmaids will do the rest.
If you have never thought about getting custom made bridesmaid dresses and sewing patterns it is definitely something you ought to consider.
The beauty of women is that they are not all shaped the same. A pattern that works for one body shape might look horrible on another.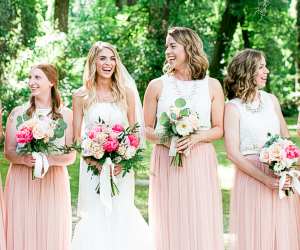 Each body is unique. That is why working with designers on styles that are suitable to each of your bridesmaids is a great way to ensure that they can also feel beautiful on your special day.
A wedding is something that should happen once in a life time. Which means that those same photos are going to be your reminder of your special day for life.
Gowns for you and your maids of honour are an important part of that process and shouldn't be discounted.
If you are less interested in gowns than you are in the special unique additions, then stick to a classic look and simply complement it with some beautiful pieces.
There are a number of wedding designers who can also help you with the jewellery and hair styles that will suit your theme.
So don't be daunted by the huge range of choice in designs, and start looking for your bridesmaid dresses and sewing patterns.