Wholesale shops and warehouses provide great discounts on a wide variety of products. Massmart is the leading wholesale supplier in South Africa and has a number of specialist brands to it's name. Masswarehouse is the founding entity of Massmart and operates 14 warehouse stores known to the market as Makro.
Marko is one of South Africa's most loved stores due to the fact that you can get everything under one roof. These warehouse style stores purchase their products in bulk. So it means that Makro can offer their customers great discounts on prices in comparison to other retailers.
Read More: Factory Shops in the Gauteng Region
Wholesale shops and warehouses are not only limited to stores such as Marko as Massmart. It is also the proud owner of Massdiscounters that operates in two retail formats: Game and DionWired.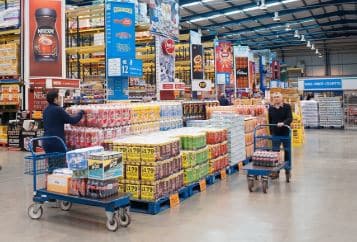 Game is a discount retailer of general merchandise such as fast moving consumer good and non-perishable foods, whereas is a South African electronics and appliances store.
Wholesale DIY Shops
If Masswarehouse and Massdiscounters aren't enough for you, then why not take a look at Massmarts and Massbuild. That operates three brands being those of Builders Warehouse, Builders Express, and Buiders Trade Depot.
These complimentary stores offer DIY and home improvement options to their customers. As well as constuction tools and products for those contractors involved in building sites and so on.
As you can see, there are a number of options and types of retailing that can use this type of format. In order maximise sales as well as customer happiness. For this reason Massmart has one last division under their belt called Masscash.
Masscash is proud to have brands such as CBW, Jumbo Cash & Carry, and Shield to their name. Along with these brands, Masscash has a number of independent wholesalers operating under their own brand names too.
This diverse range of stores consists of wholesale food and cosmetics businesses. This means that Massmart really does have the complete range of products and store format.
What exactly does this offer you as a consumer though?
Well quite a lot really:
Discounted prices. This is due to the fact that the warehouse and wholesale format allows for the different brands under the Massmart name to purchase their stock in bulk. This bulk buying provides them with great discounts and these discounts are trickled down the chain to your wallets.
Convenience. These warehouse and wholesale formats offer a huge space for the retailers to operate out of in order to accommodate all of the products that they have purchase in bulk. Therefore it means that they can buy a wide range of products. Makro for example offers home appliances, car accessories and cleaning tools. As well as clothes, and non-perishable foods. This means that you no longer have to go to a number of stores to get what you want. But rather you can find everything you need under one roof.
Customer loyalty programmes. Makro has a policy that they do not sell their goods to people unless they have registered for a Makro card. This card not only allows their customers the opportunity to purchase. But also provides Makro with great insight in to the kind of products you buy and the kind of products that you may potentially purchase. It may sound a little creepy that they know so much about you. But it really allows Makro to tailor messages to your specific needs and inform you should their be any specials that you may be interested in. If this means that you get offered further specials before anyone else, why wouldn't you want to join Makro?
Wholesale Shops and Factory Shopping in CT
Any seasoned shopper loves to find a bargain. And the good news is that if you live in Cape Town you don't even have to look too far to find one. If you know where to go, the wholesale shops and factory shopping in CT can help you pick up great deals. That will keep your bank balance smiling.
Read More: Cape Town Factory Stores and Shops to Get a Bargain
Buying from wholesale or factory shops doesn't necessarily mean that you are buying poor quality goods, cheap knock-offs or inferior items. In fact, you can find goods that are of equal quality to those sold at regular retailers. At a fraction of the price.
Why is it cheaper to visit wholesale shops and factory shopping in CT?
Wholesale shops are able to sell their goods at cheaper prices because they buy from manufacturers in massive bulk. Allowing them (and you) to save on individual items.
Wholesale outlets usually have large floor space and storage areas that allow them to purchase items in bulk. The customer also often has the option of buying in bulk from these stores.
When it comes to factory shops, you are essentially cutting out the middle man. By going straight to the manufacturer, you can buy goods directly from the factory, avoiding the mark-up charged in regular stores.
At factory shops you can also find "factory rejects'. These are items deemed unsellable by the manufacturer for some very small, often unnoticeable defect. These items are then sold at discounted prices.
Where can I find wholesale and factory shops in Cape Town?
Baby goods and accessories can be very expensive. And if your stork party hasn't given you everything you need you may want to consider trying factory shops to find quality goods for your baby at reasonable prices.
In Ottery, you can find the Treehouse Factory Shop; and in Epping 2 Kidz Zone has some gorgeous clothing for girls.
If you need travel accessories, wallets, or luggage, Bellville has a few options. Stores selling good quality items at reduced prices at Access Park.
Factory Shops at Access Park
The Access Park Shopping Complex is situated in Bellville, with another outlet in Kenilworth. At Access Park you can find a number of factory shops in one complex. Offering a range of products from food items to clothing, baby accessories and luggage, to name but a few.
Each venue has over 70 stores specialising in different products and brands. With the restaurants and fast food outlets in the complex, you can make a day of the outing. Allowing you plenty of time to see what is in store.
The stores at Access Park sell a number of items, including:
Party goods and toys
Sports accessories and clothing
Computers
Spectacles and sunglasses
Fresh produce such as fruit and vegetables
Lingerie
Motor sport and sound
Tobacco
Bridal wear
Hair salon and skin care
The Epping suburb is a popular area to find discounted cosmetics. Here you can find stores selling top international brands such as Yardley and Rimmel.
If it is warehouse stores you are after, allowing you to buy in bulk and save. Then there are a number of franchise stores such as Makro and Builder's Warehouse in the Cape Town area.
Other discount stores such as Game and Dion can also be found in major shopping centres. One of the biggest shopping centres in Cape Town is Canal Walk Shopping Centre. So this can be a good place to start if you are looking for discount franchise deals.
Hints and tips for bargain shopping
It's important to do your research and plan a shopping trip before you embark on a bargain hunt. The shops are not always in the main retail areas. So it's not worth your while driving around in hope of finding a wholesaler or factory shop. Rather look in the yellow pages or online to locate the shops you are interested in going to and plan your trip accordingly. You can also use the internet to download various maps so that you are prepared before you hit the road.